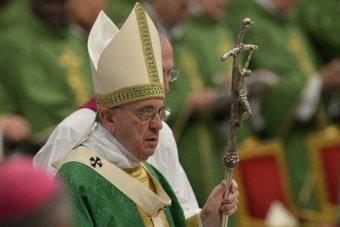 HOLY MASS FOR THE OPENING
OF THE XIV ORDINARY GENERAL ASSEMBLY OF THE SYNOD OF BISHOPS
HOMILY OF HIS HOLINESS POPE FRANCIS
Vatican Basilica
27th Sunday in Ordinary Time, 4 October 2015
[Multimedia]
"If we love one another, God abides in us and his love is perfected in us" (1 Jn 4:12).
This Sunday's Scripture readings seem to have been chosen precisely for this moment of grace which the Church is experiencing: the Ordinary Assembly of the Synod of Bishops on the family, which begins with this Eucharistic celebration.
The readings centre on three themes: solitude, love between man and woman, and the family.
Solitude
Adam, as we heard in the first reading, was living in the Garden of Eden. He named all the other creatures as a sign of his dominion, his clear and undisputed power, over all of them. Nonetheless, he felt alone, because "there was not found a helper fit for him" (Gen 2:20). He was lonely.
The drama of solitude is … Continue Reading